FAMILY CAMP
Friday, August 23- Sunday, August 25, 2019.
We hear all of the time from our camp parents that they wish they could come to camp. Well… Here's your chance! Come out and enjoy a weekend of fun and community.  Your family can spend the weekend becoming part of our camp family.
Featuring traditional camp activities like:

 Archery
 Canoeing
 Arts & Crafts
 Swimming
 High Ropes
 Fishing
 And More!!!!
Our Family Camp is perfect for families considering Camp Dark Waters for their child or children next summer. It's a great way to experience camp and see for yourself all of the fun and excitement that happens at camp.
Many families of current campers come too! It's a wonderful opportunity for your child or children to be the experts and "show you the ropes" around camp. Sit back and let your kids be the pros!
Details
6pm Friday August 23— 2pm Sunday August 25
$110 per adult $80 per child under 14 ( Just $380 for a family of 4!)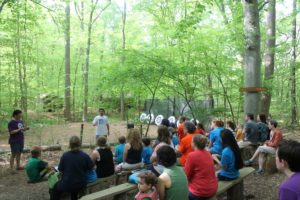 Price includes shared lodging, 6 meals, all activities and family memories to last a lifetime!
In the true spirit of camping, we'll ask for everyone's help with camp chores. We believe that for a community to function, everyone must pitch in.    Thank you for your willingness to help out.
Sample Schedule
Friday
  6:00 Dinner
7:30 Opening Campfire—Songs, Skits and S'more's of Course!
Saturday
7:30 Reveille
8:00 Breakfast
8:30 Crew Duties

9:00 Activity Period 1
10:15 Activity Period 2
12:15 Free Time
                      12:45 Lunch
2:00 Rest Hour/ Free Time
3:00 Activity Period 3
4:15 Activity Period 4
5:15 Free Time

5:30 Dinner
7:00 Evening Program
8:30 Campfire
Sunday
7:30 Reveille
8:00 Breakfast

9:00 Meeting for Worship
9:45 Activity Period 5
11:00 Activity Period 6
                        12:00 Free Time
12:30 Lunch
2:00 Pack up and Clean Cabins
To register, please visit our Registration Page!