Most people think of camp happening only during the summer. In reality, without the hard work of our Year-Round Staff 10 months out of the year, the two months during the summer wouldn't happen. As soon as one summer ends, we start putting together all of the pieces to make next summer happen!
Travis Simmons
Executive Director
2000 – Present
Travis began his camp career as a five year old day camper. He's either gone to or worked for a camp every summer since except for the summer he turned 16. That turned out to be the worst summer of his life and he's sworn never to repeat it!
With more than 25 years of experience working in summer camps, Travis has been a counselor, archery director, waterfront director, unit director and camp director. He's worked at 6 different camps in Indiana, Minnesota, New Mexico and New Jersey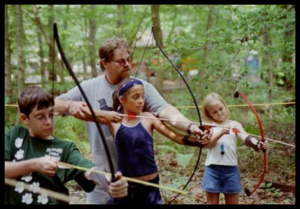 In addition to camping, Travis also taught and directed an Outdoor Education School in New England offering week- long residential programs. He also has two years experience supervising adjudicated youth in group homes and two more years working for the Boy's and Girl's Clubs of Indianapolis.
Travis happily married his wife Tammy at the far campfire site in August of 2003.
He's incredibly grateful that his daughter, Kenzie, has the chance to grow up with all of the staff serving as excellent role models for her.
---
Alex Crompton          
Camp Director
2017 – Present
Alex's camp journey began in 2008, flying over from the UK to work as a Camp Counselor, totally unsure of what to expect. It didn't take him long to fall in love with the place, and he returned whenever life would allow, working five summers as a Counselor, CIT Director and Assistant Director.

After college and grad school, at the University of Exeter and King's College London, Alex spent time working in London s

chools and with politicians in the UK Parliament. After relocating permanently to the USA in 2017, Alex realized a longtime dream and began work as Camp Director of Camp Dark Waters.
Dark Waters is the most important place in the world to Alex. Working together in the summer of 2011, Alex met Sarah, who he would go on to marry. In 2018, after living together both in the UK and USA, Alex and Sarah got married at Dark Waters, in front of the Peace Tree.
Tim Eager
Associate Executive Director
2008-Present
Tim started his life in summer camps at the age of 14, pushing the inaugural lawnmower.  That was it; his love of the community found in the summer camp world was born.  He spent many summers working various positions in the camp, from cook to counselor to administration.
Throughout his time at Nichols College where he received a Bachelor's Degree in Business Administration he ran a conference center for an Outdoor Education company, where he first met Travis, in the late 1990's.
In 2001 he began six wonderful seasons as an Innkeeper of a rustic lodge in the mountains of Massachusetts, where he fostered a love for hiking an
d fishing.
Tim joined the CDW community in 2009 where his unique ability to do everything from fix broken equipment, run high ropes, manage the camp finances, lead staff and more are truly appreciated!  He married his wife, Catie in the Camp Dining Hall in October of 2016.
---
Francesca "Cheska" White
Conference Center Director & Bookkeeper
2014 – Present
Cheska started going to summer camp at 6 attending a half-day camp run by her local Parks and Recreation Department.  After a few summers, she graduated to a full day camp and then added on Girl Scouts camp at age 8.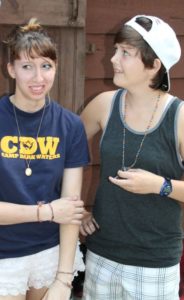 At 10, Cheska first came to Dark Waters moderately terrified at the prospect of going to overnight camp.  Immediately she was hooked. Over the next ten years she was a camper, Counselor-in-Training (TIC), counselor, special events director and program dir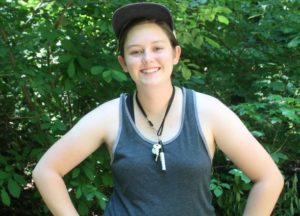 ector at CDW.  The only break she's had from Dark Waters was a year spent volunteering for Americorps in a second and third grade classroom in California. Returning to Dark Waters felt like coming home, and she hasn't left since! 
She's currently undecided about the spot at camp where she'll get married sometime in the future.